Hey guys, this post is a review post about my one of the favorite wordpress theme. The title of this post clear the intention of this post. Before OceanWP, I used lots of themes but none of them fulfill my requirements due to lots of complicated customization process. Second thing is, I never like to customize a theme from the theme panel without seeing the changes in real-time. Check my OceanWP Review and tell me what do you think about this amazing multipurpose wordpress theme.
I just started review post section in #wpyard and OceanWP is the first & best poduct for me to start it – why? Because I'm using OceanWP since sep-2017 and I found its pretty amazing free wordpress theme with tons of real-time customization option best for every type of website, small or large.
OceanWP is considered as the fastest WordPress theme along with the Astra and GeneratePress theme. A few millisecond load time says all about it. Read my full OceanWP review to understand why it is out of the box wordpress theme. Some folks also say, 'OceanWP is the killer of the premium themes' – interesting huh!
Getting Started With OceanWP Review
I started my blog #wpyard back in September 2017 and after one year of using OceanWP, I still stick with it, why? It's simple because OceanWP has all the necessary elements and features for a developer as well as a non-techie person to build a beautiful website with it.
But Before deep diving into the ocean of OceanWP, I just want to tell you that only having tons of customization options don't make a theme perfect for a website. Several of other elements you should consider to consider a theme best such as clean and structured code, seo and speed optimization, documentation and support, regular updates and many more. Now let's consider these factor with respect to the OceanWP theme and then decide it has the potential or not.
About OceanWP Theme
OceanWP is launched in 2016 by Nicolas and a very short span of time, it becomes the fastest growing wordpress theme with over 670,400+ downloads and 100,000+ active installs. But you know what makes it awesome, the rating of this theme which is pretty awesome – 5 out of 5-star rating and no any rating below 3-star.
In the words of Nicolas – "During 2014 & 2015 – I worked as a freelancer, creating sites with WordPress. That's when I noticed a huge pain point. There were a lot of free themes in the WordPress theme library, but none that exactly suited the client projects. So for every project I worked on, I had to either create a complete theme or purchase a premium theme. Not only was this process time consuming, but it also increased the price of the service. On top of that, customers would often ask me how to do such and such manipulation due to the complexity of some premium themes. So, the idea of creating a free theme that I could change depending on the project came to mind. After months of hard work in 2016, I built OceanWP – a completely free and easy to set up a theme, meant to make the web a better place."
OceanWP comes with two version – free & premium.
The free version has all the essential elements which you will never find in any free wordpress theme. Create anything with the free version but the pro version boosts your creativity more with its premium features.
You can't use OceanWP standalone. First, you need to install it essential plugin Ocean-Extra which is also a free plugin available in The WordPress plugin repository.
Free Version
The free version of OceanWP comes with 8 plugins to improve site features with 13 free site layouts (demo).
Ocean Extra (essential)
Product Sharing
Posts Slider
Social Sharing
Demo Import
Stick Anything
Model Window
Custom Sidebar
With the free version, you will get support using WordPress support page but don't underestimate it. The theme developer is very active here also you can get support quickly.
Premium Version
Premium Bundle (core extension bundle) – 13 pro plugins with 21 pro demos including free plugin and demos.
Full Screen
Cookie Notice
Popup Login
Instagram
White Label
Portfolio
Woo Popup
Sticky Footer
Ocean Hooks
Elementor Widgets
Side Panel
Sticky Header
Footer Callout
With the premium version, you will access premium support to troubleshoot any issue in your site.
OceanWP Basic Design
After installing OceanWP you will see a neat and clean site design. Check the image below to view the first look of the OceanWP theme.
OceanWP – 110% free theme with premium features
Yes, 110% free, why? 100% for the free theme and 10% for the 8 free plugins which replace other third-party plugins and enhanced the site features built with OceanWP.
Now check the OceanWP features come with the free theme.
Customization Panel
WP customize is the wordpress extended feature to customize the site design from one place and view the changes in real-time. Since default wordpress installation comes with only 7 customize option but OceanWP adds 11 more panels. The number of customization panels will be increased if you install its free or premium extensions which enable the customize the theme from a single place. See the screenshot for available customization panel with the default theme.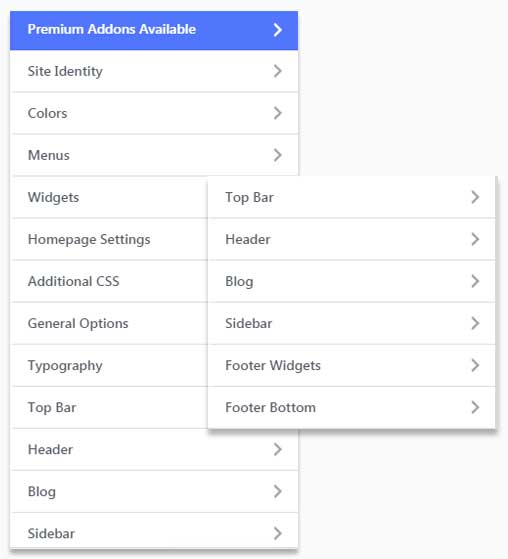 Clearly, you can customize almost everything thing with the powerful customization panel.
Typography
No third-party plugin you need to install to achieve this. With OceanWP you can change the font family, size, color, text link color etc for each element. Check its rich typography panel to better understand.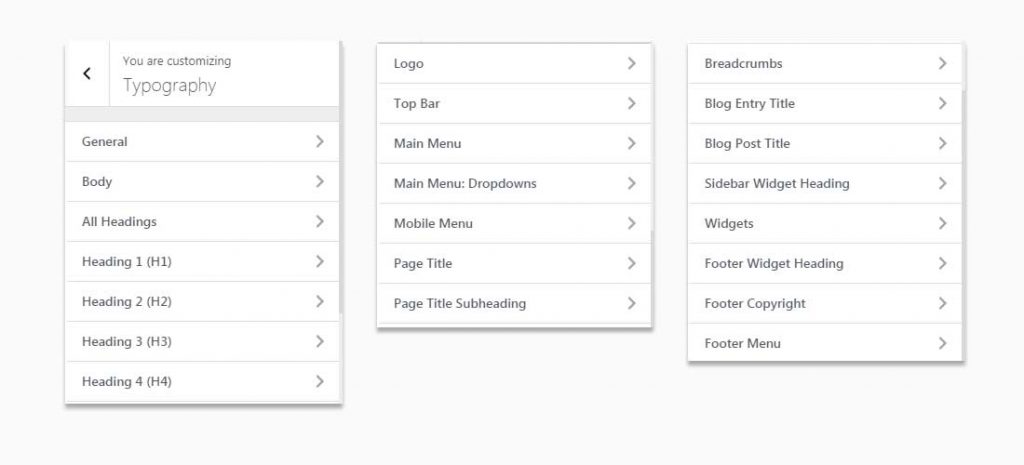 Style all heading and fonts once or each individually as per your need. There are 800+ google fonts available to choose from.
General Option and Site Setting
Customize the page title, scroll to top, theme button, forms, 404 page, pagination etc. choose an icon, color, padding and spacing for the scroll to top button, Set the default color for the button for your theme and many more. Use default 404 page or use your own created 404 page using a page builder.
Blog Post Style
Arrange the blog components as per your need with the very simple Drop & Drop elements. One click hide and show option available for the components. for eg, if you don't want to display tags or want to hide comment or date, just click the respected components to hide. No CSS coding required to hide these elements, pretty awesome.
Three Entry/Archive Blog Layout
Many of us looking for a perfect blog layout and do lots of hardcoding or installing a plugin but with OceanWP, you will get 3 blog layout ie Large Image (default), Thumbnail and Grid blog layout. I am using thumbnail blog layout for my blog because I love it and it contains all useful information in small space.
You can check the demo for the thumbnail blog layout by clicking here – View thumbnail style
OceanWP Theme Panel
After installing its essential free plugin Ocean Extra, you will see a menu – 'Theme Panel' in the admin area. It contains very useful and important settings for a site from MailChimp integration to site speed optimization.
Here you can enable or disable some theme features like typography, blog panel, custom CSS/JS, footer bottom, footer widget etc if you don't need them.
Instead of it, you can also quickly navigate to some essential setting like upload logo, add favicon, site identity etc.
Easy MailChimp Integration
Integrate Mailchimp easily with OceanWP theme. Enter MailChimp API key and List-id in its MailChimp Integration panel located in the theme panel and use MailChimp subscribe from anywhere in your theme. Super easy integration along with MailChimp custom design by OceanWP.
One Click Enable/Disable Scripts and Styles
Easily eliminate CSS and JS files if you don't need in your site by the powerful Script and Styles section located in the theme panel. Very useful when you are getting plugin conflict issue in your site or optimize the site to increase its speed and performance.
In the above image, you will see some files but there are 50+ CSS/JS files, you can enable or disable at once or one by one depends on you.
OceanWP Widgets
Instead of the WordPress default widgets, OceanWP has some stylish widgets which can enhance your site look and features amazingly.
You can see the number of widgets such as recent posts, Mailchimp, Instagram, Twitter, Facebook like box, Flicker, social icons, custom links etc in the above image.
OceanWP Shortcode
Yes, shortcodes are available to use. Check the available shortcode in the given list below.
Import and Export Setting
This feature is the best of the OceanWP. Export the all setting in json file and import in other sites if you need. No need to redesign the same site again if you want to keep your design identical for all your sites.
Instead of these awesome features, there are also lots of other features you will see when you use it.
Page Builder Friendly WordPress theme
OceanWP is compatible with all modern page builder. The best friend of OceanWP is Elementor page builder. But it is also compatible with Beaver builder, Divi Builder, Brizy builder etc.
You can choose your favorite page builder and start building your site with OceanWP without any hassle.
OceanWP also offers Elementor widgets with its core extension bundle which includes beautiful Elementor modules.
Compatible with Woocommerce
Want to build an e-commerce site? Just go with OceanWP theme. Its premium version has a number of woo-commerce elements.
Customize woo-commerce elements straight from the customize panel. Off-canvas sidebar, dropdown cart, floating add to cart, quick view, easy checkout process etc are some amazing features of the theme.
Speed and Performance
Now after the theme basic features, its time to measure the theme on the basis of its speed and performance. I said earlier somewhere in this post that OceanWP is SEO and speed optimized theme. OceanWP is completely built for the professional website to keep the SEO and performance in the mind.
For the Schema Integration, you don't need to install any third party plugin. The free theme comes with an option to enable or disable Schema Markup. It is located in the Appearance > customize > general options > general settings.
On the speed test by Pingdom tool, It takes only a few milliseconds to load with performance grade – 'A'. You can also improve its performance by using Kinsta hosting and Perfmatters wordpress plugin.
Instead of it, enable or disable scripts and styles at your ease to improve site performance and avoid any code conflict.
How to Install OceanWP Theme
Just head over to appearance > themes > add new and type OceanWP in the search box. Click to install and activate it. Now you will see 3 recommended free plugins ie Elementor, Ocean Extra, and Ocean Demo Import. Install Ocean Extra and Ocean Demo Import. You can Install or dismiss the Elementor as per your need. I will discuss Elementor in the future post.
After installing these Ocean plugins, you need to navigate dashboard > theme panel > install demos. Choose a layout that you like from the available demos or design a completely new design with OceanWP.
How to Install Demo
First, select a domain and click on it. You will see a box mentioning about the required plugin to get the exact design. Install it and click next, then you will see another box containing the list about the settings to be imported.
Click on the install this demo button and after few seconds, the installation process will be finished. Now check your site. Change logo, color, typography as per your requirements and you are good to go.
Well Documented and Priority Support
Without a proper documentation and great support, no product can win the race. OceanWP has both – a good documentation to setup theme and amazing premium support. Its free support is also great and you will get a quick reply from the theme developer. What else you need in OCeanWP theme? probably nothing. OceanWP has all the features you are looking to build a site.
OceanWP Pricing
It has three plan for the premium version – Personal, Business, and Unlimited.
Personal – $39 for 1 site for 12 months support and updates. All pro modules included.
Business- $79 for 3 sites for 12 months support and updates. All pro modules included.
Personal – $129 for the unlimited sites for 12 months support and updates. All pro modules included.
Other Features
If you are a developer and looking for a white label theme, no problem, OceanWP white label is available. You can rebrand with your brand without any hassle.
You can add breadcrumbs to your theme. OceanWP uses Yoast SEO breadcrumbs and customizes it to fit into their theme properly under the page or post title.
Multiple header styles enable you to customize the header completely with a single click. Some of the header styles are minimal, transparent, vertical, centered, left logo/menu, menu/right logo etc.
There is three search button style ie overlay, replace and dropdown. pretty amazing, huh!
Megamenu – pre-built mega menu function. no need to style other plugins to get this feature.
Post in Menu – Show your post in the menu in the drop-down.
Add Icon to the menu – Add beautiful icon to the menu to make your site beautiful.
Page Layout – available styles are both sidebars, left sidebar, right sidebar, no sidebar, 100% full width.
Site Layout – Wide, Box and Separate layout.
Need Assistance – Hire Me
You are too busy or don't know how to build a website? No problem, leave a message here with your requirements. I will get back to you as early as I can.
You will get a high-quality website as per your requirements within the deadline. For any query please follow the link below.
Conclusion
I hope, you understand why OceanWP is the great theme for every type of website. You should give it a try if you really want a speed and performance optimized wordpress theme.
OceanWP is fully compatible with woo-commerce and gives you a nice experience if you want to build an e-commerce website. Unlock the woo-commerce features with its premium version and build your super e-commerce site.
If you have any query or suggestion, let's connect with me by leaving a message in the comment box.
This is my first review post, I hope, you like it. Id there is any point missing, please let me know.
Subscribe #wpyard for getting more interesting stuff and also follow on social media channels – search #wpyard.
OceanWP Review
Features

Speed & Performance

Support

Pricing
Summary
SEO & Speed optimized multipurpose wordpress theme. 99% elements are customizable and completely page builder friendly theme. Whether a beginner or a developer, he/she will surely love this amazing theme.