If you are planning to start your travel journey and need a website to share your travel stories and experiences with the people, then you are in the right place. In this post, I will tell you how to start your travel blog and how to achieve the design you want for your travel blog site. I will also give the list of some best travel wordpress theme which can help you to build your site in super easy manner.
Before thinking over design and features, first, you need to find a domain name for your site and a good hosting service which can host your website without damaging your site performance. Here I will also mention some features of a good web hosting and hosting providers which will help you to select the best web hosting according to your budget. This post may contain affiliate links, meaning that if you click on one of the links and purchase an item, we may receive a commission (No additional cost to you).
Finding Domain Name and Hosting
If you already have domain name and hosting, you can skip this part and read the next part of this post. But if you are looking for it, then read it carefully.
Almost all web hosting providers give the option to register a domain name at the time of purchasing hosting service. Therefore first you need to find a good hosting provider. But how will you find it? read below paragraph for better understanding.
A good web hosting provider must have a great support team and should be available 24×7. You need to also check uptime guarantee, spam protection, security, email, backup option etc. There are many web hosting available on the market vary on the basis of price and features. So pick the one according to your budget and if budget not matters, pick on the basis of features.
In my opinion, Bluehost, Kinsta Hosting and Hostgator are the most demanded and reputable hosting providers in the industry.
BlueHost – Starts from $3.95 / month
Kinsta – Start from $30 / month
Hostgator – Starts from $2.75 / month
(Above hosting providers offer a free domain with their hosting plan) – Save price for domain registration.
Tips – You can also save a decent amount of money if you are going with 3 – 5 years plan.
Kinsta plans are higher than others because it is dealing with only wordpress website and provide managed wordpress hosting which is best for the wordpress sites. It also provides free SSL and CDN with lots of premium features which will help your site to perform better in SERPs. Bluehost and Hostgator also provide managed wordpress hosting but here I mentioned only their shared hosting plan.
Read more about hosting plans and features in details by following this link. 
Choosing hosting providers totally depends on you. Check some available domain name with hosting providers related to travel blog.
Some available domain name ( Register before other purchased it )
tourfiction.com — book with Bluehost / Kinsta / Hostgator
touradventure.org — book with Bluehost / Kinsta / Hostgator
traveltale.org — book with Bluehost / Kinsta / Hostgator
ultimatenomadic.com —  book with Bluehost / Kinsta / Hostgator
soletraveller.org — book with Bluehost / Kinsta / Hostgator
Check Domain name availability with Bluehost Domain checker widget
let me know which hosting provider you like and purchased for your travel blog using the comment box below.
Start Building Site
After purchasing the domain and hosting, you need to install wordpress in your domain. use Softaculous or manually upload the wordpress framework. You can view the tutorial about how to install wordpress on your domain.
Video Credit – WPCrafter
I hope you will understand well how to install wordpress on your server. Now next step is to upload a wordpress theme. Here are the some best wordpress theme for travel blog and website.
Best Travel WordPress Theme
Since wordpress is an open source framework, therefore lots of developers working continuously to make it better and safer place. There are lots of wordpress theme both paid and freely available in wordpress marketplace.
WordPress Theme – Main design and layout of your wordpress site. You can change it anytime to a completely new design without losing any data within few minutes.
WordPress Plugin – To enhanced site features like share button, contact form, slider, SEO etc. You can activate or deactivate anytime. Theme changing does not affect plugin features. I will discuss later in my next post about the list of useful plugin for a travel website. You can subscribe or follow me for getting latest post direct in your inbox using subscribe box.
1. Essence Pro Theme
Essence Pro is a beautiful theme designed by popular StudioPress Team. You can modify it as per your need to achieve your blog design. This theme has all the features that a modern wordpress theme should have. SEO friendly, Secure, Speed Optimized wordpress theme requires Genesis framework which is also offered by the same developer. To know more about this theme visit theme page.
Know More – View Features + Download
2. Extra WordPress Theme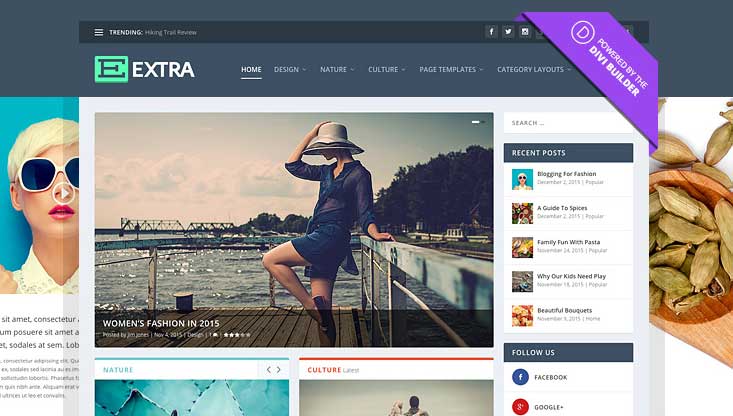 Extra is another great theme powered by Elegant Theme, popular in wordpress industry and Divi Builder. Like Divi, it also consists category builder, post & page builder, SEO optimized light-weight theme. It is also a Woo-Commerce enabled theme. Build your design according to your need without lots of code and plugin. Just one Divi builder is enough to draw your imagination in canvas. Just go for it.
You can access all Divi theme (All 87 theme ) after joining their membership. $89 for one year and $249 for lifetime access.
Know More – View Features + Download
3. Travel By OceanWP
OceanWP is the fastest growing theme in wordpress marketplace. Lots of customization tools, various free and paid design, useful plugins to enhanced site features all in just one place. A dedicated person behind the theme always available there for you to short out all your queries and issues quickly.
Travel is made for the travel blog and I am using it on my own travel blog. Just amazing theme at an affordable price. Just go for it.
Know More – View Features + Download
4. Personal
This wordpress theme is also offered by OceanWP. It is a very slick theme with a neat and clean design. Best wordpress theme if you are looking for a simple design theme with highly customizable options. You should just give a try to this theme.
Know More – View Features + Download
5. Photography
If you are planning to start photography blog or you want to create photography collection form your travel experience, this is then for you. Use this theme as you want for writing stories, creating a beautiful photo album and many more.
Check the dem by following the link below. This is also offered by the previous one OceanWP team.
Know More – View Features + Download
6. Astra
Astra is a lightning fast wordpress theme developed by BrainstormForce Team. This theme offers a great experience for both frontend user and developer. Highly customizable theme and also fastest growing wordpress theme. Woocommerce ready with lots of customization option.
With Astra, you will get a number of pre-designed template and landing page (free and paid both available). Select the template and create your beautiful website within minutes.
You can create a completely new design for your blog or you can choose any design from their huge design repository.
Know More – View Features + Download
7. Blogging Box
Blogging Box another great wordpress theme for travel blog offered by MyThemeShop ( 414987+ Happy users ). MyThemeShop has a great repository of wordpress theme and plugins.
BloggingBox is speed optimized, seo friendly etc theme with great theme options panel which enables you to customize the theme, color, typography etc in an easy way. For more information, follow the given link below.
Know More – View Features + Download
Final Words
There are lots of wordpress theme but finding a good one is very difficult. I hope this post will help you with your travel blog. If you need any assistance in creating your travel blog just ping me or hire me for developing travel blog for you or any other type of wordpress site as per your need. Just leave a message in comment form or connect with me using the contact form in contact page.
Setup Blog Checklist – Facts Behind A Successful Blog
10+ Essential Tools Must For Every Professional Website
Subscribe for more wordpress tips and tutorials using the subscribe box or follow me on facebook and twitter and get the latest notification instantly.
Keep Smiling, Keep Sharing!